Modification Services
Accessibility Modifications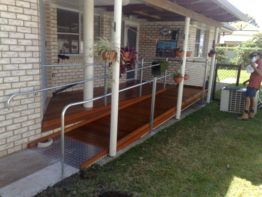 Do you have uneven surfaces or different levels in your house and/or paths?
Install a step wedge (as small ramp) to all uneven floor levels to the inside of your home, or front and rear threshold steps.
Fix up cracks or lifted parts of concrete paths.
Fix loose verandah boards, carpets, vinyl tiles etc.
Install hand rails or grab rails to points where different levels occur.
Chairs or Beds Too Low?
You can add height to your favourite chair by having a chair raiser platform installed
You can add height to your bed by having a bed block or bed raising installed.
Security
Install security screen doors
Install security screens / grills on windows
Install sensor lighting
Make an appointment: 02 6643 1831
All modification work is referred by an Occupational Therapist to ensure the best solution for your specific needs
Who is Eligible?
For clients who are aged 65+ (or ATSI 50+) all referrals must be made to www.myagedcare.gov.au or phone 1800 220 422.
If you are aged under 65 (or ATSI 50) please contact CVHMMS to arrange an assessment on 02 6643 1831.
Occupational Therapy Assessments for Modifications contact hospital department directly Grafton 02 6641 8738 or Lower River 02 6640 0123
For clients who are aged 65+ (or ATSI 50+) all referrals must be made to www.myagedcare.gov.au or phone 1800 220 422.
If you are aged under 65 (or ATSI 50) please contact CVHMMS to arrange an assessment on 02 6643 1831.
Occupational Therapy Assessments Grafton 02 6641 8738 or Lower River 02 6640 0123
For clients who are aged 65+ (or ATSI 50+) all referrals must be made to www.myagedcare.gov.au or phone 1800 220 422.
If you are aged under 65 (or ATSI 50) please contact CVHMMS to arrange an assessment on 02 6643 1831.
Occupational Therapy Assessments Grafton 02 6641 8738 or Lower River 02 6640 0123