Clarence Valley Home Modification & Maintenance Services Inc is a community based, structured and managed social organisation in the northern region of NSW.
We are a construction based, "Primarily" not for profit service providing home modifications and home maintenance to clients who are frail aged, younger people with a disability and their carers. We offer expert advice and workmanship, with the aim of enabling clients to remain living at home longer.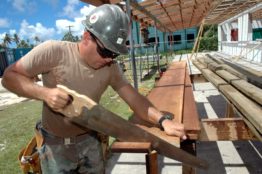 We have been operating in Grafton in the beautiful Clarence Valley LGA region for over 32 years. Delivering a specialised, prescribed, individualised and unique approach to home modifications and maintenance, to the people in our community who need support in order to remain living safely and independently in their own home .
Clarence Valley Home Modification and Maintenance Service Inc is committed to providing clients with the highest standards of care and workmanship. We follow strict building codes, Disability Standards, Home Care Common Standards and Australian Standards. All work that is carried out in our clients dwellings are performed by compassionate, professional, fully qualified and licenced tradespeople.
"Our aim is to provide modification and maintenance work to assist clients to live independently in the community and remain in the home for longer.  The major emphasis is on maintaining safety, access and independence."
Mark Robson
CVHMMS Manager and Builder
Whether you need Major modifications. Medium modifications. Minor modifications. Or Minor and general maintenance, Clarence Valley HMMS have the ability and expertise to undertake all or any of these, right down to changing a tap washer. With our major emphasis being on safety and independence, rest assured CVHMMS prescription builders can deliver with expedience, respect, compassion and professionalism. Subsidies are available to eligible clients, or our experienced and dedicated staff can help with more avenues of assistance.
Contact our friendly CVHMMS team today Ph: 02 6643 1831 and discover how to be comfortable and safe at home.
Our office is open Monday to Friday 9am to 4:30pm
Need More Information:
Go to our Resources Page